Mission Statement
The purpose of Blue Moon Dance Company is the general business of organizing, promoting and developing a dance company for performance, artistic and educational endeavors in the field of dance.
---
Dips, Lifts & Flips - Master Classes in Partnering Video
---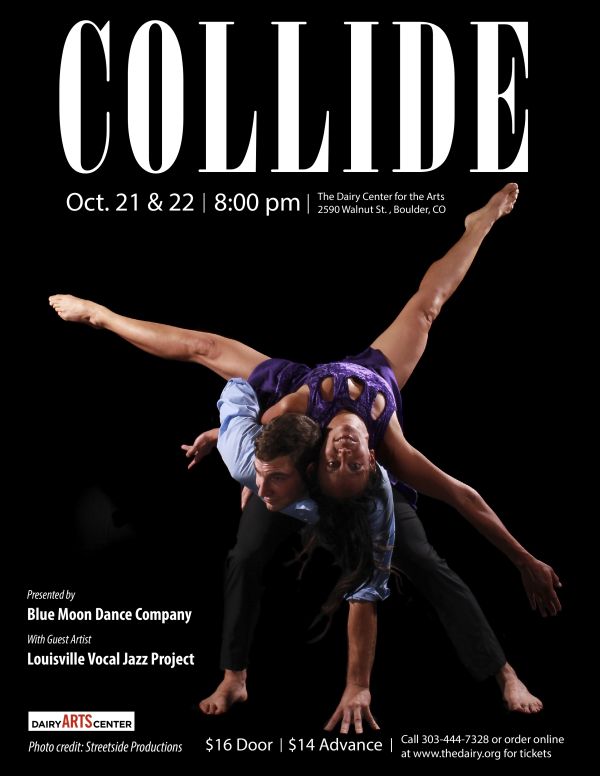 Blue Moon Dance Company presents COLLIDE, a contemporary dance performance. Company members and choreographers are: Pat Connelly, Kevin Nadeau, MaryAnn Nason, Willow Reed, Lisa Adeva Samoy, Skylar Shaver & Thomas Wingerd. The Louisville Vocal Jazz Project joins the company for this 21st annual performance, a celebration of dance and music.
WHERE: The Dairy Arts Center (www.thedairy.org)
www.thedairy.org
CINEMA | DANCE | THEATER | MUSIC | EXHIBITIONS | CLASSES | EVENTS ALL UNDER ONE ROOF. The Dairy Arts Center provides the Boulder community diverse opportunities to ...
WHEN: Friday, October 21st at 8:00pm
Saturday, October 22nd at 8:00pm

<![if !supportLineBreakNewLine]>
<![endif]>
Pat Connelly
Director
Blue Moon Dance Company
303-443-3262
---
The company members are: Pat Connelly, Michelle Bernier, Ying Change, Keats Dormont, Mora Gluskin, Elena Marie Hofer, Meghan Larsen, Beth Moger, Kevin Nadeau, Chris Nuernberger, and Tomas Waples.
---
Learn about the Blue Moon Dance Company's mission, history, and how to make a donation. Section also includes contact information.

---

Browse this area of our Web site to learn about upcoming shows, as well as events and classes taught by BMDC members.

---

Read the bios of current company members, view a list of choreographers, and see what BMDC members are up to.

---

Browse our photo gallery of recent shows and events, and take a look at past BMDC shows in our gallery archive.
"Blue Moon's eclectic foundation (equal parts modern, jazz, theater and ballroom dance with a little ballet thrown in) makes for fascinating viewing" Janine Gastineau - Dance Critic